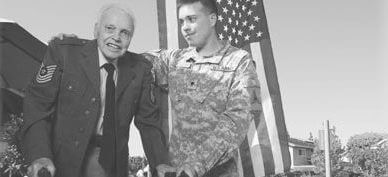 The Veteran Wellness® Program
More than 10 Years Experience Helping Veteran Families
At Avant Care, we're dedicated to helping veterans who have proudly served their country, or their surviving spouses, get the benefits they deserve.
We help you determine if you qualify for the VA Aid & Attendance Pension Benefit.
We assist you to identify and obtain documents needed for the application.
We help you complete and submit the application to the VA.
We provide your home care right away.
We furnish an interest-free loan so you can pay for your home care while the VA processes your application.
We monitor your application's progress, and assist with responses to VA requests for additional information until your pension is approved.
98% Client Satisfaction with Veterans Wellness Program
We surveyed our clients and their family members about their experience with our Veteran Wellness Program*. Ninety-eight percent of respondents said they would recommend the Veteran Wellness Program to another veteran or surviving spouse!
Even after you receive your pension, our Veteran Wellness® Program keeps working for you
We monitor your home care, to assure that you get the services you need, on a schedule that works for you.
We keep track of your medical expenses and help you stay in compliance with the VA, so you retain the maximum allowable pension amount.
We assist you to file any additional paperwork with the VA.
We're always a phone call away if you have questions or concerns.
Getting the Care You Need
Avant Care can provide you with assistance including:
Help with bathing
Help with dressing
Medication reminders
Transportation
Meal preparation
Transferring to and from bed
Personal care
Respite care
Light housekeeping
Laundry
Companionship
Additional services – including help to access other community resources to improve your quality of life.
Military: Are you a veteran or the surviving spouse of a veteran who served at least 90 days on active duty, at least one day during wartime with an honorable discharge?  (Persian Gulf War veterans must have two years of active duty or the full period of which they were called for active duty.)
Medical: Do you have a non service-connected medical condition causing you to need assistance with activities of daily living?
Money: Do you have a net worth at or less than $129,094? (limit established by Congress 12.1.2019) A primary residence and auto are not counted as part of net worth. Ongoing non-reimbursable medical and long-term care expenses may reduce your countable income.
Did you serve during one of the VA Defined War Periods
World War II: Dec 7, 1941-Dec. 31, 1946
Korean Conflict: June 27, 1950-Jan. 31, 1955
Vietnam Era: Aug. 5, 1964-May 7, 1975 For veterans who served Feb. 28, 1961-Aug 5, 1964, must have served "in country" (Vietnam).
Persian Gulf War: Aug 2, 1990- date to be prescribed by Presidential proclamation or law. Must have served active duty for two years or the full period of which the veteran was called for active duty.
About the Veterans Aid & Attendance Pension benefit
In 1952 Congress passed Title 38 of the United States Code, creating what we now call the Department of Veterans Affairs (VA), and authorizing benefits for veterans. One of these benefits is the Non-Service Connected Pension, with "Aid & Attendance." (Veterans Aid & Attendance Pension benefit.)
Even though the pension has been around for 60 years, very few people know about it or understand how it works. Avant Care and CPI has over 10 years' experience successfully helping veteran families apply for and receive the pension. Let us help you, too.
You may have what it takes to be eligible for the "Aid & Attendance" benefit.
If you would like to use your VA Aid and Attendance funds primarily for home care call us today toll free 678-303-4440 for more details.
FREE service for yourself or loved one.
The Veteran Wellness® Program is offered exclusively by Avant Care  in partnership with Care Planning Institute (CPI)®.

Avant Care Atlanta and the Veteran Wellness® Program are not part of any government agency and are not affiliated with the Department of Avant Affairs.